Product Summary
The SI4100DY-T1-E3 is an N-Channel 100-V (D-S) MOSFET. The attached spice model of the SI4100DY-T1-E3 describes the typical electrical characteristics of the n-channel vertical DMOS. The subcircuit model is extracted and optimized over the -55 to 125℃ temperature ranges under the pulsed 0-V to 10-V gate drive. The saturated output impedance is best fit at the gate bias near the threshold voltage.

Parametrics
SI4100DY-T1-E3 absolute maximum ratings: (1)Gate Threshold Voltage, VGS(th): 3 V; (2)On-State Drain Current, ID(on): 88 A; (3)Drain-Source On-State Resistance, rDS(on): 0.069 Ω; (4)Forward Transconductance, gfs: 12 S; (5)Diode Forward Voltagea, VSD: 0.70 V; (6)Input Capacitance, Ciss: 608 PF; (7)Output Capacitance, Coss: 90 PF; (8)Reverse Transfer Capacitance, Crss: 43 PF; (9)Gate-Source Charge, Qgs: 3 nC; (10)Gate-Drain Charge, Qgd: 4.6 nC.
Features
SI4100DY-T1-E3 features: (1)N-Channel Vertical DMOS; (2)Macro Model (Subcircuit Model); (3)Level 3 MOS; (4)Apply for both Linear and Switching Application; (5)Accurate over the -55 to 125℃ Temperature Range; (6)Model the Gate Charge, Transient, and Diode Reverse Recovery Characteristics.
Diagrams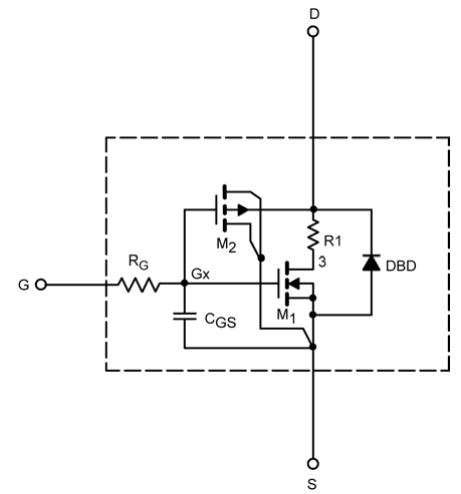 Image
Part No
Mfg
Description
Pricing
(USD)
Quantity

Si4100DY-T1-E3

Vishay/Siliconix

MOSFET 100V 6.8A 6.0W

Data Sheet



| | |
| --- | --- |
| 0-1: | $0.76 |
| 1-25: | $0.60 |
| 25-50: | $0.57 |
| 50-100: | $0.54 |

Image
Part No
Mfg
Description
Pricing
(USD)
Quantity

Si4100DY

Other



Data Sheet

Negotiable

Si4100DY-T1-E3

Vishay/Siliconix

MOSFET 100V 6.8A 6.0W

Data Sheet



| | |
| --- | --- |
| 0-1: | $0.76 |
| 1-25: | $0.60 |
| 25-50: | $0.57 |
| 50-100: | $0.54 |


SI4100DY-T1-GE3

Vishay/Siliconix

MOSFET 100V 6.8A 6.0W 63mohm @ 10V

Data Sheet



| | |
| --- | --- |
| 0-1: | $1.03 |
| 1-10: | $0.73 |
| 10-50: | $0.68 |
| 50-100: | $0.64 |


Si4102DY

Other



Data Sheet

Negotiable

SI4102DY-T1-E3

Vishay/Siliconix

MOSFET 100V 3.8A 4.8W

Data Sheet



| | |
| --- | --- |
| 0-1250: | $0.35 |
| 1250-2500: | $0.24 |
| 2500-5000: | $0.23 |
| 5000-7500: | $0.22 |


SI4102DY-T1-GE3

Vishay/Siliconix

MOSFET 100V 3.8A 4.8W 158mohm @ 10V

Data Sheet



| | |
| --- | --- |
| 0-1: | $0.66 |
| 1-10: | $0.52 |
| 10-50: | $0.49 |
| 50-100: | $0.47 |