Product Summary
The LT1074CT#PBF is a step-down switching regulator. The power switch, all oscillator and control circuitry, and all current limit components, are included on the chip. The topology is a classic positive "buck" configuration but several design innovations allow this device to be used as a positive-to-negative converter, a negative boost converter, and as a flyback converter. The LT1074CT#PBF can be used in (1)buck converter with output voltage range of 2.5V to 50V; (2)tapped-inductor buck converter with 10A output at 5V; (3)positive-to-negative converter; (4)negative boost converter; (5)multiple output buck converter.
Parametrics
LT1074CT#PBF absolute maximum ratings: (1)Input Voltage: 45V; (2)Switch Voltage with Respect to Input Voltage: 64V; (3)Feedback Pin Voltage:–2V, +10V; (4)Shutdown Pin Voltage (Not to Exceed VIN): 40V; (5)ILIM Pin Voltage (Forced): 5.5V; (6)Maximum Operating Ambient Temperature Range: 0°C to 70°C; (7)Maximum Storage Temperature:–65°C to 150°C; (8)Lead Temperature (Soldering, 10 sec): 300°C.
Features
LT1074CT#PBF features: (1)5A Onboard Switch; (2)100kHz Switching Frequency; (3)Greatly Improved Dynamic Behavior; (4)Available in Low Cost 5 and 7-Lead Packages; (5)Only 8.5mA Quiescent Current; (6)Programmable Current Limit; (7)Operates Up to 60V Input; (8)Micropower Shutdown Mode.
Diagrams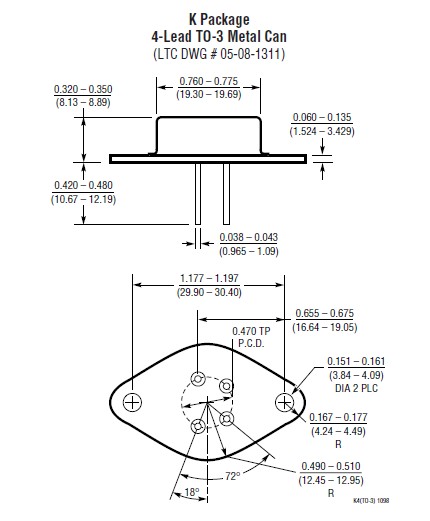 Image
Part No
Mfg
Description
Pricing
(USD)
Quantity

LT1074CT#PBF



IC REG MULTI CONFIG ADJ TO220-5

Data Sheet



| | |
| --- | --- |
| 0-1: | $6.09 |
| 1-25: | $4.04 |
| 25-100: | $3.15 |

Image
Part No
Mfg
Description
Pricing
(USD)
Quantity

LT1001

Other



Data Sheet

Negotiable

LT1001A

Other



Data Sheet

Negotiable

LT1001ACN8#PBF



IC PRECISION OP-AMP SINGLE 8-DIP

Data Sheet



| | |
| --- | --- |
| 0-1: | $3.92 |
| 1-25: | $2.60 |
| 25-100: | $2.04 |


LT1001ACN8



IC PRECISION OP-AMP SINGLE 8-DIP

Data Sheet



LT1001ACH

Linear Technology

PRECISION OP AMP

Data Sheet

Negotiable

LT1001ACJ8

Linear Technology

IC PREC OPAMP 8-CDIP

Data Sheet

Negotiable